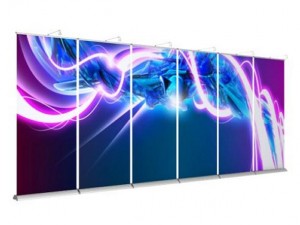 Good trade show banners are an easy way to get you on the radar of other industry professionals. Though usually closed to the public, trade shows give you the opportunity to show your peers and the press what you have been up to. By having the best banners, you give yourself the potential to really stick out and make a difference in your industry.
Banner Options
Trade show banners are available in all different shapes and sizes, and depending on your overall display plan, you must decide what banner works the best for you. Some of the display options available include:
Banner Stands – Modest, neat, banners are suspended from a simple stand in this method. These stands can be vertical or horizontal and are low cost.
Tabletops – A simple table can go a long way, and showing trade show banners on your table, when utilized properly, can look very professional.
Trussing System – The most expensive option, this involves trussing, where you can set up multiple banners in different spots to maximize your presentation.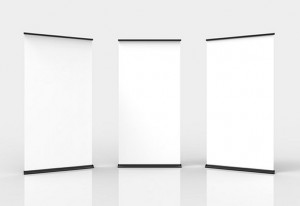 The key to remember when determining what banner type to use is to think of not just cost, but also presentation. Setting up simple banner stands may be the least expensive option, but looking cheap in front of the press and other members of your industry is simply not good.
Add to It
Regardless of the industry you are part of, sticking out in a trade show is important to your success. Once you have determined what trade show banners are to be included in your trade show display, also consider adding in other elements, such as a workstation, popup displays or countertops. In doing so, you really make yourself stand out, and getting noticed can go a long way. Just remember, always keep things simple and don't out up so many signs and banners that you overwhelm others.
Trade show retractable banners
What Are Trade show retractable banners?
Trade show retractable banners offer one of the most effective ways to get your business message or advertisement to your audience. Made out of vinyl or fabric, these banner displays are eye-catching, inexpensive and easy to use.
How Do the Retractable Banners Work?
Trade show retractable banner stands feature a spring recoil mechanism, allowing you to wind (retract) them back into their own case for easy transport and safe storage. The banner cases help you protect your advertisement graphics during transport. Once you reach the venue, simply unlock the cases, slide out your banners and hook them onto their pole stands.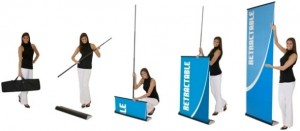 The recoil mechanism speeds setup and takedown. To dismantle, simply unhook the graphics from the pole stands and let the banners retract back into the cases. You can change the graphics to suit your promotional needs over the life of the stands. Some banners come with adjustable telescoping stands, and you can use them as full-size or tabletop versions.
What Are the Advantages of Using These Banners?
Available in many sizes and heights, retractable banners provide one of the quickest, simplest and least expensive ways to showcase your company's products. They are probably the easiest and most convenient solutions for pro-level exhibits, giving you everything that you need to deliver unique trade show exhibits, stand out from your competition and realize bumper return on investment.
Trade show retractable banner stands come with a sleek, lightweight construction, and you can easily transport them to any location without the worry of wrinkling or damaging your graphics. They are quite affordable, depending on the size and style of display. Trade show retractable banners help draw attention to your products by allowing you to place eye-popping graphics in a wide variety of locations.