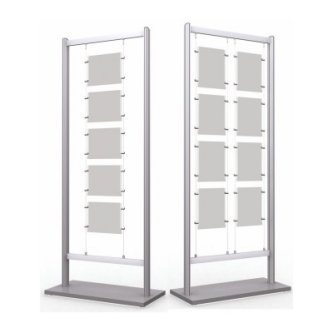 Display stands are standing mechanisms that support advertisements and presents your message to the audience. It is intended to capture your interest and to hook you in. It focuses your attention, memory, desire and interests towards the message of the advertisement. The colors, graphics and text on a display stand functions together to grab your attention from the clutter.
What is a display stand?
In simpler words, a display stand is a stand that holds posters, signs and advertisements' and can be a retail stand with frames and sign holders. It can also be a roadshow display stand or a trade show system.
You can also come across digital displays on a stand. They are also intended for the same reason as a simple display stand. The only difference is that it supports a new technology based on plasma screens and digital signs.
Displays stands not only display various objects but also give life to a flat and simple object. The elevation of a simple poster on a display stand is not only a metal structure which exhibits boards. The stand gives you a dimension, making anything appear essential and interesting. Many companies use a display stand in different settings to grab your attention towards their display.
How to choose a good display stand?
Choose a good display stand on the basis of ease and convenience. There are a number of stands to choose from.
Roller banner stands: If you want a stand which takes up less space, then a roller banner stand is the option for you. You can take the poster out of the unit, which ensures protection of your message. These stands are available in different sizes from a widescreen display to a double size display.
Cassette roller banner stand: This banner stand is very flexible. The roller stands let you change the graphic message quickly in no time. You just have to remove the cassette with a new one.
Tension banners: The snap rails of the tension banner stand allow you to change your graphic message easily. It does not require you to refit your banner in the rails.
Weatherproof banner stands: These kinds of banner stands are perfect for outdoor use.
You should choose a stand with an outstanding quality display along with great prices. Also make sure that your graphic team is good enough to present your message on the board without elaborating it.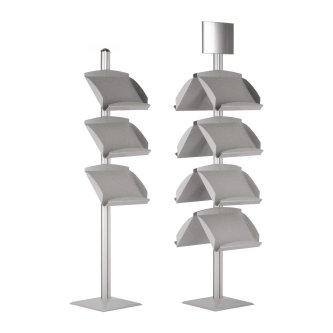 Customize your display stand
It is always good to customize your display stand with color. If you have a particular color in your graphics then set a display stand matching the colors of your advertisement. The feature of the display stand should be catchy. It can be video, flashy signs, lights or any other interesting way to seize the attention.
If you want people to pay attention to a specific attribute on your graphic, then it is necessary to choose a display stand with lights or enhance it with extra lights.
Adding sounds on your display stand if represents a video is also a really good option. Sounds of birds, water streams, beach or any other sound which can enhance your stand should be used wisely.
The last thing to remember is that display stands should have a solid structure, easy transportation, quick disassembly and free from cluttered rails and a lot of assemblies.