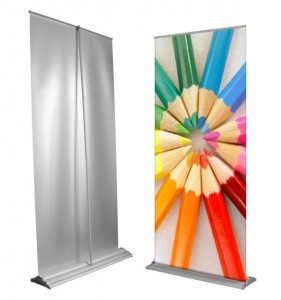 We all know that pop up banners are an effective display tool that can highlight your business or brand efficiently, but do you know what are different types of pop up banner?
Advantages
Businesses have already been using banners and outdoor displays such as posters since long for displaying product features. Lately, pop up banners or also known as roll up banners, have immensely gained popularity amongst advertisers. That is because they are highly effective, and at the same time very affordable compared to other advertising medium.
Aside from affordability, another advantage that you can get from roll up banners is that they are the most user-friendly among all the advertising tools available. They are also made of plastic rods with a connector making them extremely lightweight and easy to assemble and disassemble. At the same time, they are pretty easy to transport because they take very little space and can be molded.
Types
There are several types of pop up banners that you can choose from. The first and the most often used type is the standard type stand. This type of stand is the most basic and most commonly seen on trade shows because they are lightweight.
Do you want to add some spice to your stall? Then try adding some curve to your stall by using the snake and gullwing pop up display. This type of display shapes like a snake or "S", while the gullwing is formed of two curved banners that have been put together to look like a pair of a gull's wings.
The next type of pop banners is the tower banners. Since this banner is standing tall, the biggest advantage of having this type of banner is that they will be visible even if there are numerous other banners around the trade show. You can also stand independently with this type of banner.
Do you have lesser things to display? Then use the tabletop banners. This is relatively a smaller type of banner in which you can only place your brand or company name on the tabletop and a laptop for your presentation.
If you are looking for a pop up banner that will best fit in events such as fairs, trade shows or even concerts, pop up tent banners are great options. They are best for diverse types of events whether held indoors or outdoors. They can be used as back walls or side walls and are available in many different shapes depending on your needs.
Choosing right
Now that you understand what pop up banners are and what are different types of pop up banner, you surely can make an informed decision on which type of pop up banner to use. Then, you will know how you can make your trade show very effective and make your brand well-known.