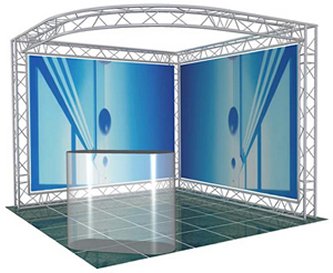 For new companies entering the dynamic world of business, participating in a trade show with the use of trade show display rentals is one brilliant and practical choice of making an impression. It is for the fact that this means is affordable and effective, chances of converting guests into consumers is usually high. Before that, you should know your trade show options and of course, the important considerations in choosing a trade display.
Trade show display rentals size
– Tabletop display. This exhibit resembles to that of a billboard with a display that can be recognized so easily. Since the displays are larger, you can get reliable results compared to a bulletin pasted with lots of images.
– Pop-up display. This kind of display is also referred to as portable display or pull-up display. Once you are already in the trade show, you just have to pull up the graphics to market your products and services.
– Ten-foot backwall exhibit. Although this exhibit offers limited space, still it can accommodate guests for you to relay your message. More importantly, you can cover up the place with lots of images to incur the attention of the guests.
– Twenty-foot backwall exhibit. A twenty-foot exhibit renders the companies a different marketing experience. The fact that it is spacious enough, you can come up with great marketing schemes. Examples of these are creating an area for demonstrating your products and of course, meeting with your clients.
– Truss display. Another exhibit that you will love is the Truss Display. It is all thanks to its heavy-duty display systems, lightweight materials, and excellent up-to-minute backdrop.
Tips for Trade show display rentals
– Start with the smallest display. If it is just your first time joining the trade show, you better start at renting the smallest booth. With this, you will learn through experience by knowing what aspects you need to improve on the next trade show. More importantly, you can also learn from your competitors.
– Know your trade show needs. Before you join a trade show, it is of importance to know what size of trade show display you will need. If you just need to make an impression for a low-cost, you can opt for a tabletop display. If you are to demonstrate your products and services, then opt for a larger trade show exhibit.
– The terms and conditions. Since you will be renting a trade display, terms and conditions apply. Take time to read the company's policies. For instance, if something broke off during the exhibit, who will take responsibility for the broken entity. Will it be you or the company?
– Consider your budget. As mentioned earlier, participating in a trade show display demands necessary expense. In view of this, know how much you can invest in this endeavour. If you want to rent, then you can save a lot compared to owning an exhibit.
To sum this up, participating in a trade show display can make a difference for every company. You can make the process and result more favorable by knowing what trade show display rentals will work best on you.