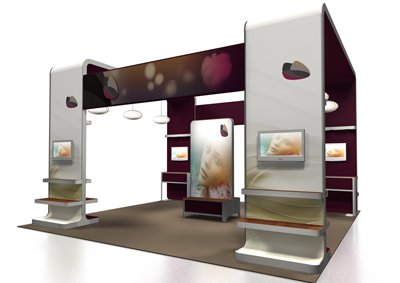 Companies have already started taking advantage of trade show display systems as a marketing tool due to its effectiveness to attract people. In fact, some of the systems were especially built to suit every exhibitor's needs. Let's know some of them!
What are the trade show display systems?
– Table Covers or Throw Covers. This system involves using a table within the exhibit space. It usually comes with a table drape and a customized cover as it is more appealing compared to stock table cover.  The table can be printed and used for branding opportunity making it more beneficial to use.
– The Pipe and Drape. This usually uses metal frame of upright posts supported by base plates.  It consists of a fabric drape threaded or tied on cross beams. The fabric drape typically has a neutral color or most often, complements with the motif of the show.
– Truss Displays. For television shows, truss displays are typically used due to its durable construction, elegance, and complex interchangeable graphics. It is built with steel or aluminum in many shapes and sizes.
– Popup Displays. If you want a lesser onsite and labor support, popup displays are what you need. This is composed of a flexible graphic panel attached to a spring-loaded roller where the graphic winds for storage. The components of this system are lightweight materials that can be transported without the hustle and bustle.
– Custom Exhibits. This is ideal for exhibitors who want to showcase their own design. Purchase exhibits are composed of variety of materials incorporated with hard wall panels to create rooms, work stations and other display areas.
How to be cost effective with your trade show display system?
The problem in using a display system for your trade show lies mainly on cost and labor. While this has been the trend, exhibitors do not really need to spend thousands and thousands for a perfect display system. All it takes is for you to be smart!
– Hire the right people. There is no need to hire many laborers to set up the site. A few will do. What is important is everybody works beyond what is expected. There has to be a maximum utilization of manpower.
– Choose the right materials. Your materials need not to be expensive to gain attention. There are quality materials sold at an affordable price. You can always visit stores or go online to compare prices. While shopping for your materials would take time, it is certainly worth it especially if you are cutting cost.
– Monitor. As an exhibitor, you are responsible for follow-ups. Make sure that you hit your goals as scheduled to avoid additional expenses due to delays.
– Encourage sponsorship. This is one way to go if you are out of budget. With many people who are willing to sponsor events for promotional purposes, you will certainly find one who will suit your theme.
Taking advantage of trade show display systems will help you get the best look for your exhibit. Nevertheless, it comes down to your budget and how creative you are to make everything just perfect.