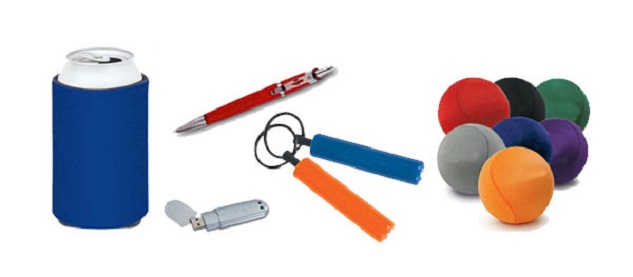 Promotion of business products or services at a trade show takes preparation and a keen sense of what attracts your targeted customers. Trade show items displayed properly and offered to everyone who passes by can increase interest and brand recognition. These are just a couple of the benefits that any company needs to succeed. Learn how to choose the most effective options without breaking your budget.
What is a Trade Show Item?
These items are small, relatively inexpensive, and have an imprint of your business name, logo, and other important information. Printed pens, mugs, tote bags, and t-shirts are popular types. They come in a wide variety of styles, colors, imprint types, and price ranges.
How to Give Away Promotional Items
At trade shows, each company gets a table or small booth to display information, lay out pamphlets or business cards, and offer freebies and gifts. Use one corner of the surface for a neatly-arranged group of your trade show item types. Include a "Free" or "Take One" sign. You can also hand a printed pen or keychain to every person who stops by the booth.
Why Use Freebies at Trade Shows?
The goal of offering trade show gift items to people at the event is twofold. First, you want to attract interested consumers or other business representatives to your booth with a free offer. Also, you want them to remember you every time they use the pen or look at the fridge magnet at home.
Choose Cheap Trade Show Item
For a small or less profitable company, giving away items at trade shows and conventions can put a crimp on your operating budget. It is important to weigh the cost vs. value you get from the giveaways. Choose less costly printed products like pens or notepads rather than higher priced ones like tote bags and embroidered t-shirts. The impact may not be as impressive, but the effect can still boost your business brand without tipping your books into the red.
Trade show items offer many types of businesses the opportunity to connect with the demographic groups of customers they need to profit and grow. This works equally well for business-to-consumer and business-to-business companies across many industries and niches. Promotional items to give away for free at trade shows and conventions contribute to positive brand recognition, trust, and the appearance of value and great customer service.